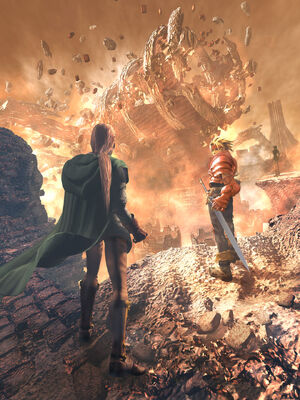 Vellweb was the capital city of the humans during the Dragon Campaign. Ruins now, it was a very large city capable of housing thousands of people. Much like Kadessa, the ruins are now home to monsters. There are seven towers in the center of the city, which were vessel for the souls of the Dragoons.The seven towers are pointed out as soon as the company arrives, but they are empty. Many events must unfold before the four remaining Dragoons can be released.
There is also a huge cannon of sorts near the entrance to the city which was used to shoot large arrows at the Tower of Flanvel. The Wingly Circle is a circle of Wingly cities that were once floating but during the Dragon Campaign were shot down by the Magical Arrow Shooter based in Vellweb.
Dart and company head to Vellweb with Lloyd to discover the true identity of the one calling himself Emperor Diaz. While traveling through the city Rose explains much about the old world.On the way to the throne room, the group comes across Shirley who asks for help releasing Kanzas, Belzac, Damia, and Syuveil, four of the dragoons that died during the Dragon Campaign.
They continue on to the throne room to discover that the man calling himself Diaz is actually Zieg, Dart's father. Zieg reveals that his true intentions for the Moon Objects are to create a new world by destroying the current. Feeling like a fool for being treated as a mere puppet, Lloyd charges in at Zieg and is quickly blown away, seemingly killed. Zieg continues and reveals his involvement in the Dragon Campaign, Rose's connection with the Black Monster, and Shana's ultimate destiny.
The Dragoon Towers
Edit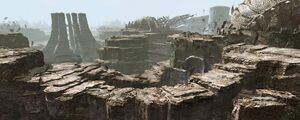 After returning to Vellweb, Dart and company can free the souls of the first generation dragoons. Starting with Shirley's tower, which is the only way to access the others, the towers go clockwise so: Kanzas, Belzac, Zieg, Damia, Rose, Syuveil, and back to Shirley's. Since Zieg is still alive, his tower is not kept from erosion by the dragoon spirit like the four that are trapped there. Rose's is in similar decay since she is also alive. Because Shirley is not trapped there, her tower is also dilapidated, though there is a carving that holds a stardust.
Primero and Quatro, the first and fourth Peddler Brothers
Random encounterable
Edit
Boss encounter
Edit
| Name | Element | HP US | HP JAP | XP | US Gold | JAP Gold |
| --- | --- | --- | --- | --- | --- | --- |
| Belzac | Earth | 16,200 | 25,000 | 6,000 | 300 | 300 |
| Damia | Water | 10,200 | 14,000 | 6,000 | 300 | 300 |
| Kanzas | Thunder | 14,400 | 18,000 | 6,000 | 300 | 300 |
| Syuveil | Wind | 12,800 | 16,000 | 6,000 | 300 | 300 |
| | |
| --- | --- |
| Found at the ruined altar inside Shirley's tower. | |
The Dragoons' Towers
Edit
Community content is available under
CC-BY-SA
unless otherwise noted.