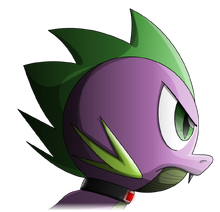 Greetings. I am an artist of many kinds. I made this wiki when I was 12. Then I left it. Kind of a dick move, but... *ahem* I'm back now. Gonna make sure I act like a founder.
To my right is my Tumblr avatar. Spike from My Little Pony. Ehn.
MY FAVOURITE LINKS, BRO
Edit
MY FAVOURITE RPG CHARACTERS, BRO
Edit
Squall Leonheart, Final Fantasy VIII
Bartz Klauser, Final Fantasy V
Spider, Mega Man X: Command Mission
Meru, THIS GAME MORONS
Claire Farron, Final Fantasy XIII

lots o' final pharmacy luv
Community content is available under
CC-BY-SA
unless otherwise noted.