Welcome to the Legend of Dragoon Wiki!

With more information than even Minister Noish can provide for you.
443 articles straight from the Mille Seseau National Library
Featured Article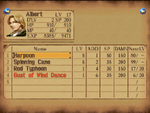 Addition is the combo system that is used in The Legend of Dragoon. An addition is a series of timed button mashes. Most additions are gained at set character levels, except each person's final addition which is unlocked by mastering all other additions. more
Helping out
To write a new article, just enter the title in the box below.
Not sure where to start?
Find out more about the wiki on the About page.
If you are new to wikis, check out the tutorial.
Get to know how we do things around this wiki by going to the Help Desk
Adding content
Talk and more...
Check out the community portal o to see what the community is working on, to give feedback or just to say hi.
Content
News
Any News that the staff finds out will be posted here. If you're not staff let a staff member know and they will happily do it for you.

Wiki News
July 20, 2013- Found an image with a name that doesn't fit? Post it in the File renaming page. Just make sure to make a suggestion on the name! Thanks to WikiaPhoenix for making the page.
October 30, 2012- Page Builds have requirements have been created. Go to the Forum page Page Builds to see the current list of page types. These page builds should be used as a kind of template and be used to keep things organized!
August 17, 2012- Wikia has a new home page. The Legend of Dragoon Wikia home page in hopes to look more professional. Talk about it at the Forums
Game News
July 12, 2013- The Petition now has 1,000 supporters to release Dart as a DLC character for PlayStation All-Stars!
July 2, 2013- #ReleaseDart is now trending on Twitter and there is also a petition to bring Dart to PlayStation All-Stars
June 29, 2013- Thanks to Ongan-san It has been discovered that Dart was a cancelled DLC character for PlayStation All-Stars.
August 24, 2012- Sony has renewed the Legend of Dragoon trademark. It is not known for what purposes.
May 5, 2012- They have officially released Legend of Dragoon on PSN in the United States! Make sure to download it!