| | |
| --- | --- |
| | This article is a stub. You can help The Legend of Dragoon Wiki by expanding it. |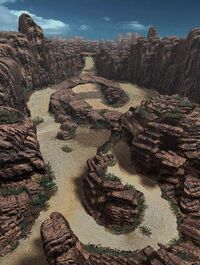 The Barrens(荒れ地, Arechi) is an area of rocky, sand-strewn canyons and rock outcroppings north-west of Fletz. An exit to the right of the screen leads north to the exit to Donau; the left screen exit, east to the Valley of Corrupted Gravity.
Previous area: Fletz

Next area: Donau; the King in Fletz must 
give permission to enter the Valley of Corrupted Gravity 
after the Mayor of Donau agrees to the search for Lynn

Story
[
]
Chapter 2: The Platinum Shadow
[
]
Chasing a Shadow
[
]
The claw-handed Mappi and other similarly armed members of the Gehrich Gang attack the party here; due to their speed and surprise attack, control of the Red Dragoon Spirit is temporarily lost.
Treasure
[
]
All the treasure in the Barrens is visible on-screen; only the entrances are hidden. Turning on the map markers will make it easy.
Monsters
[
]
Trivia
[
]
On the opening screen, if you watch the top, you can see some kind of large bird like creature fly across the sky.
Gallery
[
]